Crowd Gallery
Available as Framed Prints, Photos, Wall Art and Gift Items
Choose from 1 pictures in our Crowd collection for your Wall Art or Photo Gift. Popular choices include Framed Prints, Canvas Prints, Posters and Jigsaw Puzzles. All professionally made for quick delivery.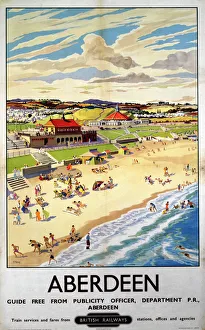 Featured Print
Aberdeen, BR (ScR) poster, 1948-1965
British Railways (Scottish Region) poster showing the beach and promenade. Artwork by T Train
© Please read our licence terms. All digital images must be destroyed unless otherwise agreed in writing.
Aberdeen, Beach, Crowd, Railway Poster, Seaside, Swimming