Steam Gallery
Available as Framed Prints, Photos, Wall Art and Gift Items
Choose from 1 pictures in our Steam collection for your Wall Art or Photo Gift. Popular choices include Framed Prints, Canvas Prints, Posters and Jigsaw Puzzles. All professionally made for quick delivery.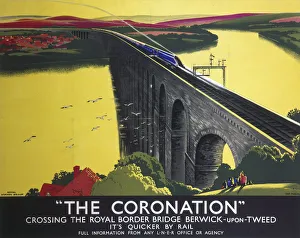 Featured Print
The Coronation, LNER poster, 1923-1947
Poster produced for London & North Eastern Railway (LNER) showing The Coronation, an aerodynamic train speeding across the Royal Border Bridge over the River Tweed at Berwick-upon-Tweed, Northumberland. Artwork by Tom Purvis, who rallied for the professionalisation of commercial art. In 1930 he was one of the group of artists who founded the Society of Industrial Artists, which campaigned for improved standards of training for commercial artists in order to broaden their scope of employment. He became one of the first Royal Designers for Industry in 1936. Dimensions: 1016 mm x 1270 mm
© Please read our licence terms. All digital images must be destroyed unless otherwise agreed in writing.